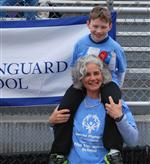 Phone: 610-296-6700 x 274
Email:
Degrees and Certifications:
Bachelors of Science, Physical Therapy Allied Health, University of Connecticut 1985
Doctorate of Physical Therapy, Pediatric Specialty, Rocky Mountain University of the Health Professions, 2014
Dr.

Johanna Spangenberg

Welcome to Vanguard Physical Therapy. I have had the pleasure of working at the Vanguard School since 2008. I have enjoyed working with children with physical and cognitive challenges for many years, both here at Vanguard and other schools throughout my career. I work with children in all of the areas of the Vanguard School including the primary program; elementary, middle, and high school programs; as well as the Vocational Transition Center.

I graduated from the University of Connecticut in 1985 with my physical therapy degree. I also graduated from Rocky Mountain University of the Health Professions with a clinical doctorate in physical therapy with a pediatric specialty in 2014. I have a special interest in autism and weight related issues.

Vanguard physical therapy is a related service that allows us to help optimize children's physical access and success in their school programs. Please feel free to contact us with any questions.