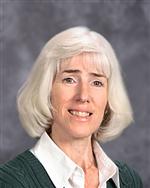 Phone: 610.296.6725 ext. 235
Email:
Degrees and Certifications:
B.S. in Special Education
B.S. in Elementary Education
Minor in Psychology
Mrs.

Teresa McNulty Hight

Hi! My name is Teresa McNulty Hight. Welcome to my class! I have been teaching at the Vanguard School for over 32 years, since the fall of 1987 I even student taught here! I received a B.S. in Special Education and in Elementary Education along with a minor in Psychology from Cabrini College.

I have been a classroom teacher in the Lower School, in the Middle School and, currently, in the High School. In the mornings I teach both Literature and Math classes, while in the afternoons I enjoy teaching Language Arts to various academic groups. I also teach Social Skills.

At school, outside of the classroom, I also am a Senior Class Advisor and assist with the yearbook. I help organize and attend our monthly dances, Prom and Graduation. The daily snack cart runs from my classroom every afternoon at 2:40 and twice each week I run a fundraising Pretzel Sale from my classroom.

UPDATE

Contact: I can be reached by email everyday. I will be on often during this unique time. Office Hours will be by appointment only. If you would like to have a Zoom meeting, just email me and we will set something up quickly.

As of Monday, April 13th we started having Zoom classes. See schedule below.

*Math- 9:00-10:00 Monday

*Reading- 9:30-10:00 Wednesday

*LA- 5th pd 12:15-12:45 Wednesday

*LA- 7th pd 12:15-12:45 Thursday

*LA-6th pd 1:15-1:45 Thursday

*LA- 8th pd 2:15-2:45 Thursday

*Social- 10:00-10:30 Friday

*Individual lessons 1:00-2:00 Monday/ 11:00-12:00 Thursday/ 11:00-12:00 Friday

You will be receiving an email with a Zoom invitation for your 1st class. Keep it to return each week. If you misplace the link, let me know and I will send it to you again. If these times don't work for your schedule, let me now and we'll work something out. I'll post any changes here.

This is new to me so I'm offering apologies in advance as I educate myself in the process.
Phone:
Email:
Degrees and Certifications: