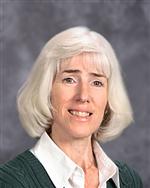 Phone: 610.296.6725 ext. 235
Email:
Degrees and Certifications:
B.S. in Special Education
B.S. in Elementary Education
Minor in Psychology
Mrs.

Teresa McNulty Hight

Hi! My name is Teresa McNulty Hight. Welcome to my class! I have been teaching at the Vanguard School for over 32 years, since the fall of 1987 I even student taught here! I received a B.S. in Special Education and in Elementary Education along with a minor in Psychology from Cabrini College.

I have been a classroom teacher in the Lower School, in the Middle School and, currently, in the High School. In the mornings I teach both Literature and Math classes, while in the afternoons I enjoy teaching Language Arts to various academic groups. I also teach Social Skills.

At school, outside of the classroom, I also am a Senior Class Advisor and assist with the yearbook. I help organize and attend our monthly dances, Prom and Graduation. The daily snack cart runs from my classroom every afternoon at 2:40 and twice each week I run a fundraising Pretzel Sale from my classroom.

JUNE, 2020 UPDATE Regular classes are done!


My compliments to all of you for persisting through this very unique time. It has been quite a learning experience for all of us! Students, parents, and staff. We did it! Hopefully you had some fun along the way. I wish you all a happy and relaxing summer. You have earned it! I look forward to seeing you all in person (I hope) in September. Until then take it easy, laugh a lot, get some fresh air, and stay healthy.

Contact: I can be still be reached by email. I will check my email often throughout the summmer.

Office Hours will be by appointment only.

If you would like to have a Zoom meeting to catch up up and chat, or if you have some questions, just email me and we will set something up.
Phone:
Email:
Degrees and Certifications: