Life Imitates Art: Creating Really Cool Things During ESY
Posted by VFES Communications at 8/5/2015
This summer's art program run by Ms. Fell presented a robust slate of methods and mediums through which students could engage in artistic endeavors.
From Australian nature sculptures and block prints to printmaking and sketching, students in the Middle and High Schools and the VTC had varied opportunities to try something new. Students learned about the nature sculptures of Andy Goldsworthy—a British photographer and sculptor who produces land art in natural environments. After studying his work, students ventured outside to make their own nature sculptures.
To learn about the concept of positive and negative space, students discussed Goldsworthy's use of these elements in his piece entitled Rain Shadow. Classes also explored Australian Aboriginal cave hand paintings and compared Goldsworthy's use of positive and negative to what the Aboriginals produced. After much discussion, students made a stencil and paint in spray bottles to produce their own positive and negative space hand paintings.
During week three of ESY, our older students furthered their understanding of positive and negative space as they were introduced to the process of printmaking using block prints. Students sketched and drew on foam printing blocks, creating the negative space of their print. During weeks four and five, the students rolled out ink to make multiple prints of their image and made frames for their prints.
We're delighted our students were able to explore new mediums, gain an understanding of novel concepts and expand their appreciation for the art of other cultures.
Honorable mention: Students in our Elementary School explored textures, colors, shapes and dimension, making sea creature friends to comprise an ocean-themed mural. Construction-paper fish were adorned with ripped pieces of colored tissue paper, making these aquatic animals quite animated. Turtles fabricated out of paper and egg cartons leapt off the board. Fluffy clouds floating above the oceanic world, with cotton balls utilized to add dimension and create cumulus clouds.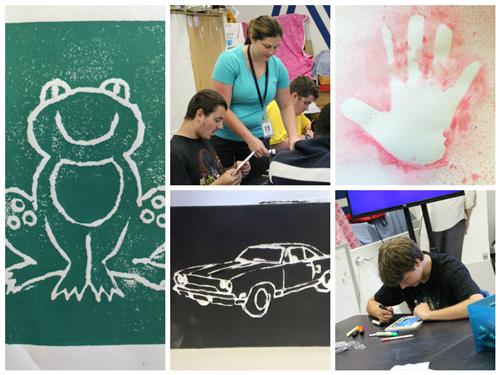 Students Work from the Middle and High School and VTC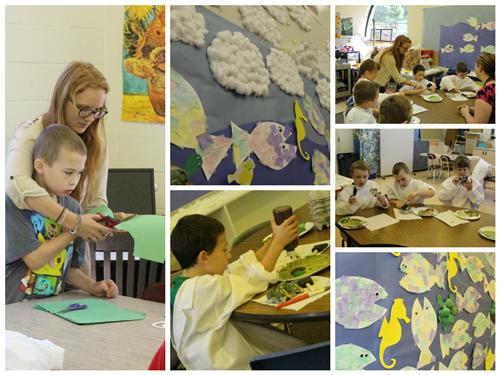 Student Work from the Elementary School