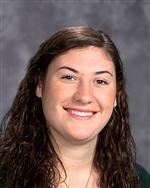 Phone: 610.296.6725 ext. 238
Email:
Degrees and Certifications:
Bachelors Degree in Elementary Education and Special Education
Miss

Michele Cotumaccio

Hello,

My name is Michele Cotumaccio. I graduated from Cabrini College in May 2012. I received my degree in Elementary Education and Special Education. I am starting my fifth year at the Vanguard School. Before I was employed here, I did my student teaching in both the High School and Elementary School.

During my first two years working at Vanguard, I worked in the High School as an assistant. The next two years I worked as a classroom teacher in the Elementary School. This year I am returning to the High School as a classroom teacher. I am excited to be back in the High School!

I also like to get involved in our other programs here at Vanguard. I am the school's DJ for the dances, and I have been the co-director of two plays. After the school year ends, I work the Summer Life Programs: Extended School Year and Camp Kweebec.

I am very blessed to be working at the Vanguard School. I come to work happy every day. I am excited for the new school year!
Phone:
Email:
Degrees and Certifications: