** April 24th*** Remember to sign in with your user name and password to access content on the webpage. Zoom Recordings are restricted to staff and students in my homeroom and math classes. Recordings started 4/19/20. You can see them under the Zoom Recordings page by class.

4/24/20***You may again be in the "waiting room" when you use the link for the meeting - this is another safety procedure. You will also be muted, with your camera off until you are in the meeting, and we will make sure you can turn both of those on once in the meeting. The waiting room had been turned off during the last 2 weeks so Mr. Wysocki could run the class if I had to go take care of my granddaughters when my grandson was born. He is here and healthy, and I will be in class.

4/24/20: My office hours are now all by appointment. This will offer you greater flexibility, as we can schedule at a time convenient to parents, students and myself.

4/24/20: Going forward, at this point expect zoom classes at the following day and time:

Math 1st period, Mondays at 10

Math 2nd period, Tuesdays at 10

LA, Wednesdays at 10

Speech/Social Skills, Friday at 9:30

(5/8/20) Fridays will now also have a Social Skills/OT zoom at 10:30 through the end of the year.

That being said, we may have additional times with "Guest" staff, such as OT.

5/24/20: Beginning this week, zoom meetings will use a Personal Meeting ID and password for all meetings. This ID and password can be found on the Zoom Meeting Information page, accessible by those who are invited to the meetings.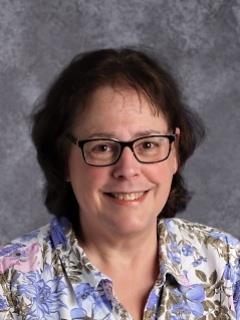 Phone: 610-296-6700 ext. 223
Email:
Degrees and Certifications:
B.A. Psychology, Rosemont College

Special Education Certification, cooperative program between Rosemont and Cabrini Colleges

M.Ed, Teacher of the Visually Impaired, Multi-handicapped from Pennsylvania College of Optometry

Mrs.

Cindy Watkins

I am Cindy Watkins, currently classroom teacher in the High School. I have been at The Vanguard School since 2003, and have been a Lower School teacher, Middle School teacher and have been a High School teacher since 2010. Prior to coming to the Vanguard School, I started my career when my children were in school as an Instructional Assistant for Chester County Intermediate Unit, working with students who were classified at the time as emotionally disturbed. I later became a teacher at Royer-Greaves School for Blind in Paoli, where I worked with students who were visually impaired and also multi-handicapped. After 5 years, I took a position as a Long-Term Substitute, again at Chester County Intermediate Unit, in the Vision Support Program. When my year was completed, I gladly took a job here at Vanguard.
Phone:
Email:
Degrees and Certifications: