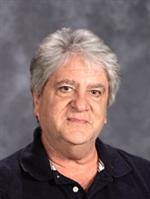 Phone: 610-296-6700 ext. 238
Email:
Degrees and Certifications:
BA History, Sp. Ed. Certification
Mr.

Joseph Previty

I have been a teacher at the Vanguard School for over 18 years. I was 12 years old, when a freshman at Central High School in Philadelphia, 16 years old, when a freshman at Moravian College in Bethlehem. My real education came after graduation. At 66, there is little that I haven't seen or experienced and I was born to share what I know. If you want my personal and professional history, give me a call.

I have always regarded my students as precious and deserving of everything I can do to make their way straight and true. Their fears and vulnerabilities have always been the obstructions I have initially tried to neutralize as soon as I could as these bundles of boundless potential have often believed things about themselves that were never true. My classroom is a sanctuary of sorts as they soon come to feel safe to explore their inner worlds in that classroom, becoming whole and ready to entertain the challenges of life, academia, and relationships with others. Most important are the informed choices they shall make; informed by their parents, their teachers, and the clarity of their own perceptions of the world around them. My classes, although academic and scholastic in their basic and intended formulation, are, most importantly, laboratories of conceptualization of the realities of being human, of what it means to think and feel and become.

Since arriving on the "doorstep" in August of 2002, I have touched and been touched by the lives of hundreds of students. I have had the pleasure and the honor of pursuing with zeal that which I was born to do: to be an advocate, to champion the powerless, to protect those who cannot yet defend themselves, and to sometimes take on the powerful for what is right and true without fear. The students this year will be treated with respect and their dignity will be preserved. They will be encouraged to use their strengths to solve problems and meet challenges...adopting methods that suit their needs and personal styles...and find reassurance in knowing that there is magic in living. If they learn to look for it, sooner than later, then the joy of this life is theirs for the taking, as they learn to do unto others as they would have done to them and discover that giving is truly living.
Phone:
Email:
Degrees and Certifications:
Ms.

Rachel Roggio

This is a person who started in our Homeroom in January, I think. I share her with another teacher. She is a writing wizard and has contributed her 30 years of experience to the benefit of all of the students in our Language Arts class and beyond. She has many great ideas and qualities, great energy and drive. A very smart, intuitive, masterful co-educator. She understands the students, has a deep appreciation for what they are experiencing in their youth, and teaches just by the power of her personality and example. I am very happy and grateful to have her with me. The students care for her and respect her. Thank you, Rachel!