Because I'm Happy at the Lower School Gym Show
Finally.

A day that was a mere dream has arrived. After a grueling winter replete with polar vortexes and nor'easters, I had but the slightest, smallest glimmer of hope that spring would actually rear its head this year. For I felt it would be "2014: The Year Without Spring." Especially after having snow in the early days of March.


So, after experiencing such intense weather for several months and hibernating indoors for so long, cabin fever indubitably peaked. It's time to put away the sweaters and boots and get moving to squeeze into the long-forgotten and far-less-bulky spring-apparel collection.

Since the spring of 1986, Vanguard's Lower School has been piggy backing on this active, stir-crazy mindset, producing an Annual Gym Show for the students to have an opportunity to exhibit the physical skill sets they've honed over the course of the academic year. What began as a small display in one of the tiny annexes on campus has blossomed into a wondrous production and opportunity for parents to come in and see what their children have learned.


This year's Lower School Gym Show was held on Friday, March 28th. After the hubbub from Vanguard's first-ever musical production, Aladdin Jr., had dissipated a bit, it was a unique chance for parents to witness something distinct from traditional theatrical productions and concerts. While there is cross-curricular collaboration employed in the Lower School Gym Show—e.g., the students made happy faces to use in their "Happy" dance a la Pharell's song by the same moniker—the emphasis is on having a physical event that highlights the well-rounded education each child receives at The Vanguard School. For as is the case with students of all abilities, maintaining an active lifestyle is essential to sustaining a healthy lifestyle.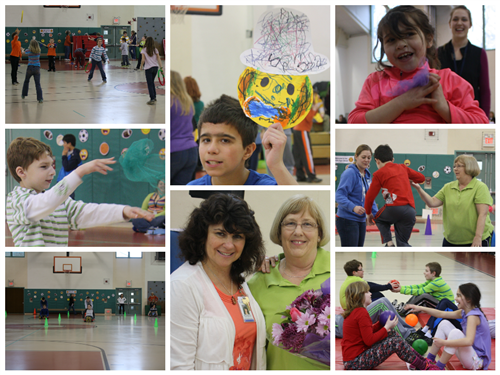 Lower School Gym Show 2014
For some of our students, it may be harder than others. For instance, intramurals are often not an ideal fit for children with autism, as we recently learned during a presentation about the link between autism and weight-related issues. From being teased for the use of coping mechanisms or persistent topics of conversation to motor-skills limitations and behavior issues, many aspects of team sports impede the full participation and enjoyment of children with autism.
How nice it was for the students to have an opportunity to do everything from cooperative fitness challenges to group juggling in a warm, familiar setting. And to display their team-oriented skills and enjoyment engaging in them for their parents.
The students were able to showcase a wide range of activities that day:
Maneuvering a tricky obstacle course
Skipping, leaping, hopping and sliding in sequence, exhibiting sound locomotor movement skills
Participating in cooperative fitness challenges including partner sit-up throw and catch and group jumping jacks
Displaying skills acquired in gymnastics club such as walking on the balance beam and performing partner forward rolls
Competing in Olympic-style bobsled races
In the end, it seemed parents, staff and students on the side lines were Happiest to see the students exhibiting their skills Happily.
A very extra special thank you to Mrs. Cary Hunter for organizing such an amazing presentation, and to all the staff whose work facilitated a superb experience for everyone involved.